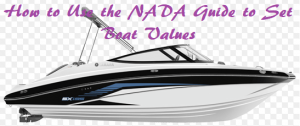 NADA BOATS
All of our boats contain beautiful fishing memories, but at some point, it's time to sell them. It could be for a variety of reasons. You might be moving to a dry area where a boat is unnecessary. Or, your boat may be too old, and you're seeking to get a new one.
Regardless, selling a boat is somewhat of a challenge.
After all, few guides talk about selling boats. You can learn easily how to price and sell a car, but never to get rid of a boat. Not too many people own one in the first place.
This is what the NADA Guide is for Boats. The NADA Guide determines the value of your boat, whether you're buying or selling. It ensures that you're not underselling, or overpaying for a boat.
Also Read: The Kelley Blue Book For Motorcycle Valuations
Want to Learn How to Use the Nada for Boat values
It's a very common inquiry done by users of the guide. This would be the steps needed to evaluate a Nada boats.
For some, it's easy. But for others, the process is a chore. Fortunately, the NADA Guide has a website which makes determining the price of a boat easy. The website has many different options that you can choose from to give you quite accurate prices.
The options may be complex for some though. This is why we wrote this guide. Here, we'll give you a step-by-step guide to find NADA BOAT'S VALUE
NADA as a Reference Guide.
The NADA Guide is a reference manual for sellers and buyers to determine boat prices. The majority of banks actually use the guide when giving loans out for boat purchases, whether that be as a security or buying a boat.
When using the online guide, you should remember that you should insert the actual boat condition when attempting to get the boat value. Not adding the correct condition may set off the price by a lot, and you won't get the useful information you need.
USING NADA TO GET BOAT VALUES…
Go to (nadaguides.com)
Go to "Boats" tab at the main menu, where you'll be sent to a page titled "Boat values and prices."
Click on 'start here', and add in your zip code.
Press continue till you receive a boat manufacturers list. If the manufacturer you're seeking isn't available, you can gain access to the entire list through the white and blue drop down just below the line.
Select the manufacturer, then look for the production year.
Determine whether your boat is a powerboat or sailboat.
You may proceed to shift through your list, which has been given to you about your boat.
You will be requested to add information on the boat engine, and additional options you have. Information you need includes entertainment, fishing capacity, electronics, and fishing capacity.




After performing the selections, press Continue at the page's bottom.
You must also add information on any trailers that come along with your boat.
After performing your selection through the lists, press Next: Price Summary". This will give you the NADA boat value.
There are additional notes we'll need to mention on Nada used boats. To start, you'll receive a suggested price, which depends on the type of boat that you're selling. Some of the suggested prices will be ranges, which will give you a low and high retail price. We recommend you really compare boats together, to seek the best offer (if you're buying).
How Can I Use the Numbers I Receive From the NADA Guide?
Through the NADA Blue Book, you can now assess the true price of your boat. You can now see whether the boat you're buying or selling has a price that justifies the specs. Of course, just to note, when selling a boat, make sure that you mention the boat specs in relation to the price. You want to provide a sophisticated justification to customers who might be buying your old machine. Calculations will be helpful too, if you can provide them.
The calculations should have already been done by you in order to set the Nada boat price. This is something you'll need to do, especially with rare boats. With a proper calculation, you can charge more for a rare boat, especially since you'll be knowledgeable of all the technical details. You should also find out the demand for your specific boat. The higher the demand for your boat (or its specs), the more you can charge!
Is the NADA Guide Suitable for Getting Boat Quotes?
It is actually one of your best bets for boat pricing through NADA Guide. The reason for that is the monthly surveys you get on a multitude of boats, with prices gathered from multiple dealers and vendors. You can get prices for new and old Nada boats, and you can also research the prices of accessories through the NADA guide. Extensive research is done to get the prices, and it's as accurate as it gets.
A lot of buyers, sellers, dealers, and even lenders rely on the NADA guide for boat pricing. Regardless, due to the existence of a little merchandising sentiment, you may find that some boats have lower prices than normal. If you're selling, it's OK to ask for a higher value on your boat.
After considering all factors, you'll find that NADA is a guidance manual, and not a book of rules on what to purchase. You must always make sure that you specify the options of your boat if you're getting a valuation. This includes HP, engine model, and accessories that can vastly change the prices of what is offered.